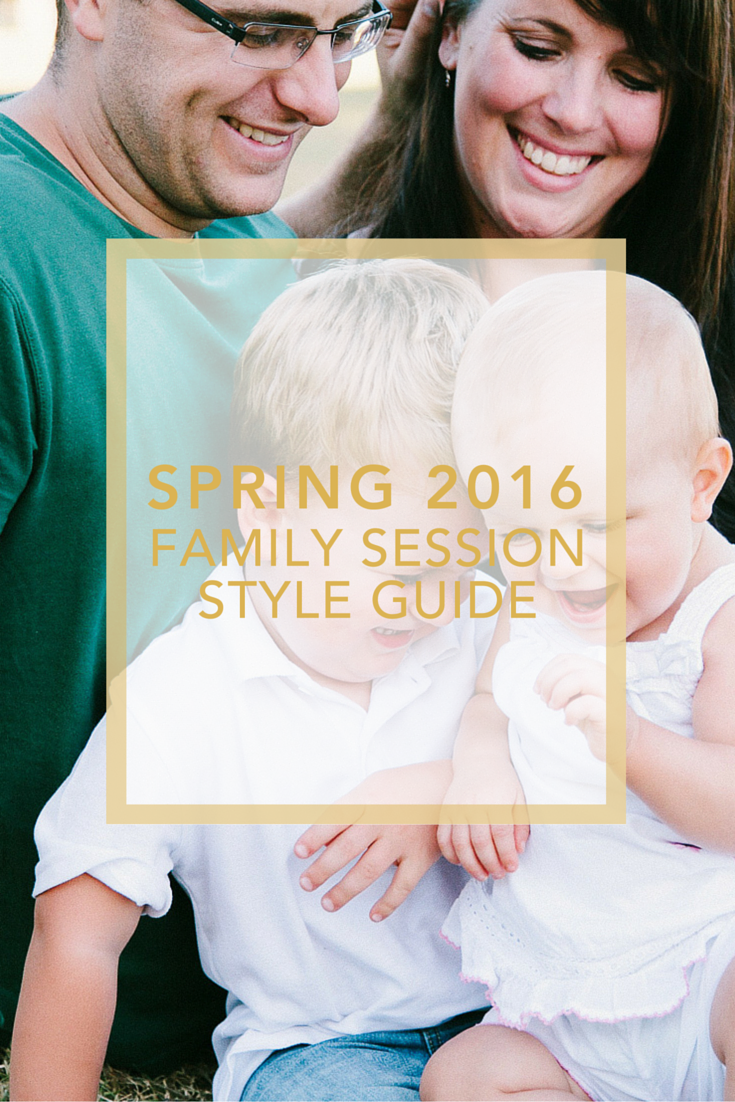 I created this style guide because one of the most common questions I hear once a session is booked, after "how do we choose a location?!", is "what should we wear?!". Seriously, I get this question for four out of every five sessions I book. The truth is that there really are not any rules when it comes to what to wear, other than not to wear matching double denim a'la Kardashian-Jenners circa 1991, but there are tips that can help your photos reflect your personalities and pop:
Do's:
Wear something comfortable. There's nothing worse than being uncomfortable when you want images that are fun, fresh and totally relaxed.
Think about your location. If you want to wear heels, don't choose a beach shoot. If you'd love to do nautical stripes and fresh blues, then maybe an alleyway urban session isn't the right choice for your session. This doesn't mean you have to 'theme' your outfits, it just means considering if your clothing choices suit the location and vice versa.
Don'ts: 
Matchy Matchy. There is not need to match. If you put your husband in a striped tee, you do not need to put your children in striped tees, too. You can pattern mix, use complementary tones and alternating 'matching' to create a cohesive look without looking like a band of Hamburglars! 🙂
Don't fight the weather. If it's a cool Spring day (SF, I'm looking at you), then don't force the kids to wear short sleeves. Freezing kids are not happy kids. Just layer up with clothing that reflects the season, put a chambray over a fresh tee, or put tights on under a Spring dress.
Onto The Style Guide!
With these tips in mind, here is your style guide for Spring 2016. Now, you do not have to copy these exactly, unless you want to! Just use the guides as a jumping off point to inspire you, to help you shop your family closets for outfits, and make dressing the family for a photo session a little easier. At the end of the day, your family session is about me capturing the connection, love and joy that exists within your family. That is what will truly shine in your images.

I am starting off with the less 'conventional' choice: a modern urban look with a focus on black. white, olive with stripes, chambray, leather sandals and fresh white sneakers. This is a great option if you're looking to do a session in an old alleyway, in a modern space such as Yerba Buena Gardens, or against the rustic canning factories of Alviso.
LINKS TO BUY: 
MOM + DAD | BIG KIDS | LITTLE KIDS

Living in the Bay Area, locations like Baker's Beach, North Beach, Santa Cruz and Pacifica are obvious choices for portrait sessions. Have a fun, fresh take on nautical + beachy styling mixing navy, soft red and white and freshening them up with aqua and fun floral prints for a truly 2016 look that will pop. If it's cool by the water, throw on a cardigan or heavier chambray to stay warm while keeping that fun beachy vibe.
LINKS TO BUY: 
MOM + DAD | BIG KIDS | LITTLE KIDS 
Last, but definitely not least, there's the classic Spring option: floral! Mix and match eyelet details with soft florals for a classic approach at the San Jose Rose Garden or Palo Alto's beautiful Elizabeth Gamble Gardens. Or you can mix dark floral pieces with denim and bright pops of orange for a look that's perfect for a neighborhood lifestyle session riding bikes and eating froyo!
LINKS TO BUY: 
MOM + DAD | BIG KIDS | LITTLE KIDS
I hope that this style guide helps to inspire you! If you have any questions or would like me to help you out with ideas for your session just shout out in the comments or tag me on Facebook and I'm happy to help!